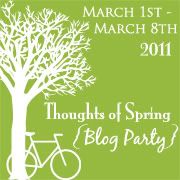 Lynnette Kraft over at
Dancing Barefoot on Weathered Ground
is having a blog party - spring themed!
She has questions to fill out, so here are mine!

How would people describe your personality? (If they could only use ONE word.) Are they right?
Umm... I'm not sure. Outgoing, passionate, friendly, blunt, funny, sarcastic? If they used any of those, they'd be right.

What celebrity/celebrities would create a "Star-Struck" feeling if you saw them in real life? Well, I am not the type to get star struck, but if I did, it would probably be Matthew Macfayden, Harrison Ford, Ewan McGregor, or Romola Garai.

Who is your favorite blogger? Why? I have a few favorite bloggers. One being my friend, Nana at By the Way. Another is Jo March at Scraps from My Workbasket. And I would have to put Ara at Shilah on the list as well. They are such amusing, thoughtful, fun, unique fellow bloggers.

What is your comfort food/drink? Spiced Cider and Ham and Cheese Potatoes.

Be brave – tell us something very random and weird about yourself. I used to talk in my sleep a lot. One thing I used to shout out was "Oh! You scared me!"

Do you have a strong desire to do something you've never done? What is it? Yes, in fact I do. Ride a horse faster than a trot and not fall off. Yes, I'm serious.

Movies: Action, Drama, Romantic Comedy, Documentary, Comedy? What are your favorite genres? Action, Drama, and some Comedy. I like stories that have depth and feeling to them. Characters that captivate you. And plots that jump out and surprise you, but are enjoyable. But I don't like lame acting or bad soundtrack... 'cause the storyline could be golden, but with out the good acting and soundtrack, the movie would fall flat on it's face.

Books: Fiction, Non-Fiction, Romance, Biographies, True Stories, Self-Help, Devotional/Study? What are your favorite types of reading material? I like Fiction mainly. I will dabble in other genres, but it's limited and specific. I like books with the same qualities that I like in movies.

Music: Funk, Rock, Country, Jazz, Classical, Film Score, Blues, Classic Rock, Crooner, Alternative, Heavy Metal, Techno? What are your favorite types? Classical, hymns, celtic, some country, some film score, some jazz, and some blues. Stuff such as rock, heavy metal, and techno are pet peeves for me.

If you inherited a million dollars, what is the first thing you would do with your money? Well, the first thing I would have to do is pay Uncle Sam's inheritance tax. But besides that, I'd buy my parents a house in the country. It's what they've always wanted. Then I'd give them a couple hundred thousand, buy a car for me, and a DSLR Canon camera, and save the rest. Oh, and tithe of course.

Name one weakness of yours (confession is good for the soul). I have too many more than one. Pretty things, horses, crafts... I just like to live life to the fullest.

If you could live anywhere at all (and take all your loved ones with you), where would you go? Switzerland. They have the most freedoms out of all the rest of the countries, besides America. And they have beautiful, rugged mountains. Although I also love Ireland, Scotland, and New Zealand, too.

Strange Talent? Can you juggle basketballs, put your legs behind your head or perform some other strange feat? I can make a sound with my mouth that sounds like a chain saw or dirt bike. Hey, you said weird...

What's something you consider yourself to be good at? (Don't worry, it's not bragging, it's acknowledging a God given gift). Being gullible. Working hard. Reading fast. Laughing a lot (sometimes I don't even know what about).

What is one of your favorite things to catch a whiff of? The smell of the outdoors in the country. Or flowers. Or food.

When you leave a social gathering, do you wish: You would have talked more or You would have talked less? I wish I had more time to talk more with my friends/family/etc.

If money wasn't a factor, what stores would you shop in? Jo Ann's (hey, I can't help it. I like to craft!), Sears, JC Penny's, LL Bean.

What is your greatest fear or strange phobia? I am claustrophobic. I am also afraid of standing on high edges. I have a fear of falling or drowning (even though I swim good).

What is your greatest accomplishment? Graduating from high school. Next on my accomplishments list is learning to drive or getting married.

What are your favorite animals? Horses, cats, and dolphins.

Are you a hopeless romantic? Eh, yeah. Depends.

What movie or book character can you most relate to? Christy Huddleston from "Christy" by Catherine Marshall.